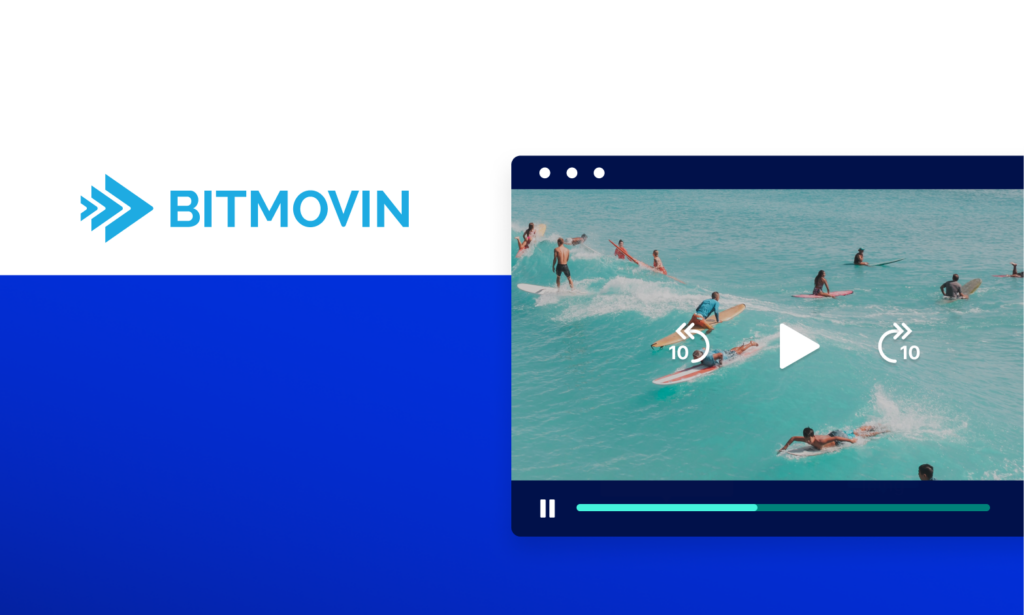 In today's digital landscape, delivering seamless streaming experiences is crucial for businesses. As consumer demand for high-quality video content across devices grows, partnerships play a vital role in meeting these expectations.
That's where our collaboration with Bitmovin, a leading provider of video infrastructure solutions, comes into play. Together, we're revolutionizing how we deliver and optimize streaming experiences.
With Bitmovin's cutting-edge technologies and our shared focus on exceptional user experiences, we're reshaping the streaming service landscape. In this article, we'll explore the valuable partnership between our organizations and its impact on the world of streaming services.
Boosting Efficiency and Performance: Bitmovin's Player
Redefines Development Experience
Our partnership with Bitmovin has been a transformative experience for our development team. We were thrilled when we learned about their range of solutions. Among them was Bitmovin's Player, which stood out as a true gem. Its robust feature set and extensive documentation make it fit perfectly within many use cases and implementation a breeze. Moreover, the exceptional communication and support from the video workflow experts at Bitmovin proved invaluable in streamlining our development process.
The Bitmovin Player offers many advantages that set it apart from other players in the market. Development best practices show that clean and concise code leads to improved performance, easier maintenance, and a better streaming experience for viewers, and this is a strong point of Bitmovin's Player. With its clear and well-structured code base, we were able to seamlessly integrate the player with minimal code requirements, which is standard for their wide range of dedicated SDKs that cover every major device type on the market, such as Web, iOS, Android, Smart TVs, Set Top Boxes, and more. This saved us valuable development time and hundreds of hours each year by utilizing Bitmovin's Player across each device and ensuring that our streaming experience was optimized for efficiency.
Unlocking User Insights and Elevating Viewer Experience
Furthermore, the built-in Bitmovin Analytics integration for the Bitmovin Player empowered us by providing comprehensive insights into user behavior, content, and ad performance. By leveraging these data points, we gained a deeper understanding of our audience, their viewing patterns, and their preferences. Armed with this information, we were able to make data-driven decisions to improve our content offerings and enhance the overall user experience.
User experience lies at the heart of software development, and Bitmovin's Player delivers. Research conducted by the Nielsen Norman Group shows that a seamless and consistent user interface across platforms leads to higher user satisfaction. This is where the customization aspects of Bitmovin's Player step in. By utilizing this powerful feature, we were able to create a unified Player interface that seamlessly deploys to multiple platforms, providing a consistent and captivating experience across any device.
One of the key benefits of the Bitmovin Player is its flexibility. Our UI designers were able to make real-time modifications and customizations on the fly, ensuring that our streaming service reflected our brand identity and catered to our users' preferences. This dynamic approach t greatly expedited the design process and allowed us to iterate and optimize our user interface to perfection.
Additionally, to guarantee a better viewing experience for users, the adaptive nature of Bitmovin's Player also plays a vital role. To ensure content is always streamed in the highest quality possible, the Player constantly monitors the available bandwidth of the user and dynamically requests the best content in the best quality available according to their connection strength. This is important as it helps maintain a consistent viewing experience and eliminates buffering.
Bitmovin Partnership Sparks Innovation
Our partnership with Bitmovin has been an outstanding journey of innovation and growth. We have redefined the streaming service landscape by harnessing the power of Bitmovin's advanced streaming technologies and combining them with our unwavering commitment to exceptional user experiences. Together, we continue to pave the way for seamless streaming experiences that captivate audiences across platforms. As we look ahead, we are excited to deepen our collaboration with Bitmovin, confident that our shared expertise will keep us at the forefront of the industry, constantly exceeding the evolving demands and expectations of our users. With Bitmovin as our trusted partner, we are poised to deliver unparalleled streaming experiences that leave a lasting impression.