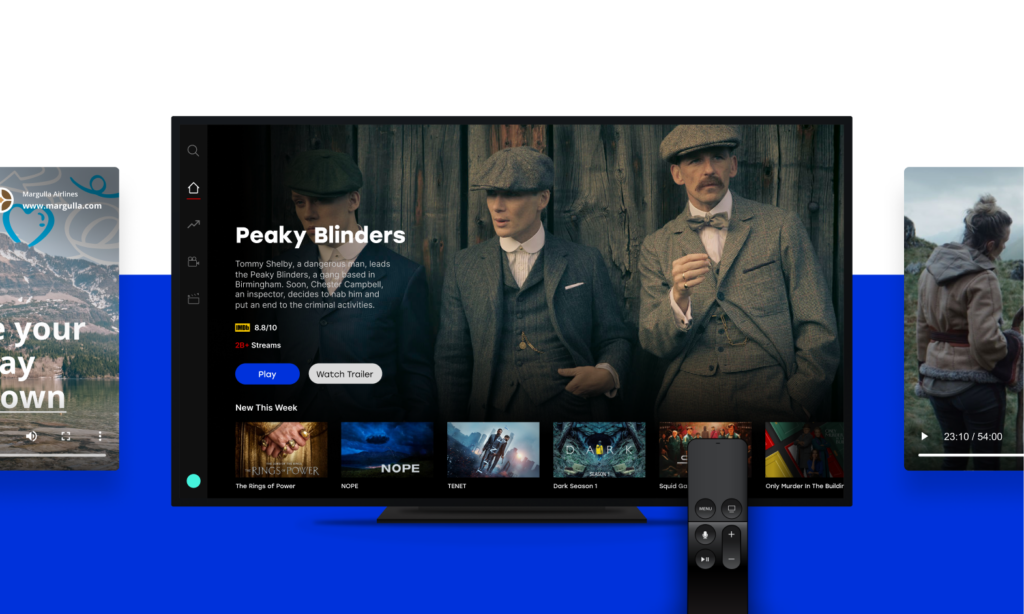 During our recent visit to the NAB Show, Free ad-supported channels (FAST) were the most popular topic discussed among industry professionals. This inspired us to conduct further research and share insights on this emerging trend for advertisers.
Free ad-supported channels (FAST) are becoming increasingly prevalent, and with the right knowledge, they can be a valuable opportunity for advertisers. As of 2023, there are over a thousand FAST channels available, making it essential for advertisers to understand how to effectively utilize these channels and take advantage of the opportunities they offer.
What Are FAST Channels?
FAST channels provide a viewing experience similar to traditional linear TV, complete with commercial breaks, and are accessible through internet-connected TVs. These channels cater to specific interests, such as news, cooking, and true crime, as well as reruns of popular broadcast shows or major events like the World Cup. The most popular FAST channels tend to be broad and are currently dominated by broadcasters like ViacomCBS, NBCU, Fox, Amazon, and Samsung.
To make the most of their advertising budget, advertisers must know how to collaborate with these channels effectively. By utilizing our insights, advertisers can make informed decisions and tap into the potential of Free ad-supported channels (FAST).
FAST Channels: Disrupting the Television Industry for Good?
Free ad-supported channels (FAST) have disrupted the broadcast television industry, with players such as TV manufacturers, broadcast studios, and OTT subscription services searching for new revenue streams.
But where do FAST channels fit into consumer viewing habits? For viewers, FAST channels complement premium content services like Netflix and Disney+. They also fill a gap left by cord-cutting, providing easy access to continuous content without the need to search for specific shows. And since FAST channels offer a familiar linear TV format, viewers find them a desirable option.
Considering these factors, it appears that Free ad-supported channels (FAST) are here to stay and will continue to play a significant role in the ever-changing landscape of television consumption.
Key Statistics for FAST Channel Growth
Several key statistics illustrate the rapid growth of Free ad-supported channels (FAST):
These statistics demonstrate the significant and continuing growth of Free ad-supported channels (FAST), making it an increasingly important platform for advertisers to consider when planning their ad spend.
The audiences for FAST channels are growing rapidly, with multiple platforms attracting more viewers than traditional cable and satellite TV in the United States. Networks are fueling this growth by repurposing their idle content and earning revenue through the FAST model.
As many viewers reach their limits on monthly content subscriptions, FAST channels provide a welcome way to fill content gaps. This has resulted in faster user growth and higher overall consumption rates for FAST channels, compared to paid subscription services.
In short, the increasing popularity of FAST channels presents a significant opportunity for businesses and advertisers to reach new audiences. As more viewers turn to these channels, it is important to understand the unique characteristics of this emerging market and leverage them to drive engagement and revenue.
Advertisers have a new opportunity to reach their target audience with the rise of FAST channels. With a collection of content related to specific niche interests, FAST presents the potential to create strong connections between brands and consumers, provided that marketers understand the interests of their target audience. Additionally, if brands have seen a decrease in reach due to cord-cutting, FAST channels provide a way to regain the demographic.
Advertising on FAST Channels: Opportunities to Explore
With the growth of FAST channels, advertisers have a new opportunity to reach their target audience. Many of these channels cater to specific niche interests, making it easy for marketers to connect with their audience. Additionally, brands that have seen a decrease in reach on traditional broadcast TV due to cord-cutting can use FAST channels to regain their demographic.
How Does Advertising on FAST Work?
Advertising on FAST platforms can be purchased through programmatic auctions, using the same tools as online advertising. The next step is contextual advertising, where relevant brands are aligned with channels and content that fit their target audience's interests.
The same advertising methods used in subscription services can also be applied in the FAST ecosystem, including dynamic overlays, split-screen ads, and brand/product insertions. Programmatic solutions drive significant revenue, allowing advertisers to target audiences with their own data.
FAST Channels: A Golden Opportunity for Advertisers
If you're an advertiser, here are three reasons why you should consider advertising on FAST channels:
Massive growth potential: These channels are free, unrestricted, and available 24/7, so there's a good chance their viewership will keep expanding.
High intent and attention: FAST channels offer top-quality content that caters to specific target groups, making it easier for advertisers to grab viewers' attention.
Increased personalization: FAST channel operators plan to use AI to personalize viewing guides, making it easier for advertisers to target specific audiences.
FAST channels are proving to be a valuable marketing platform that can connect advertisers with their ideal audiences, both on a per-content and channel-wide basis. If you're not exploring FAST channels yet, now's the right time to start.