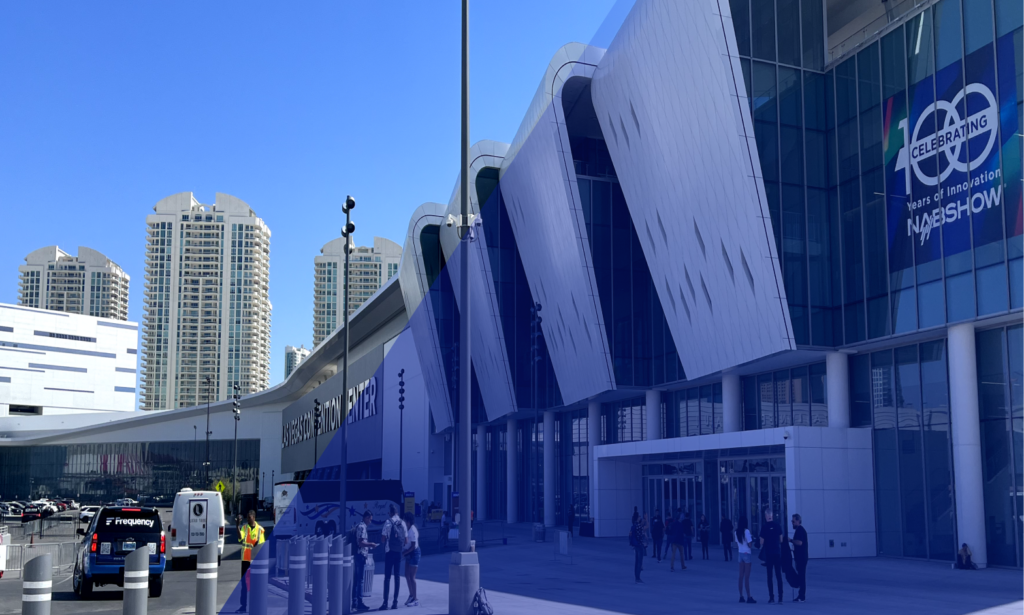 Last month, our team had the pleasure of attending the NAB Show, where we joined media and entertainment professionals from around the world to explore the latest innovations and trends in the industry.
The 2023 edition of the NAB Show marked a century of this popular convention and trade show in Las Vegas. Over 1,200 exhibitors showcased their latest products and technologies at the Convention Center, and more than 65,000 people attended the event. This highlights that in-person trade shows and conferences still have relevance in this industry, and can provide valuable opportunities for networking and business development.
We were among the attendees at this year's event, and it was a busy 4-day affair. We had many conversations with industry professionals, both within the designated networking areas and at various events and happy hours. After we took a short break, we distilled our key takeaways from the show, which demonstrated yet again the thriving state of an industry that continues to grow rapidly.
The $12 Billion Question: Can FAST Replace Cable TV?
One major takeaway was the rise of Free, Ad-supported TV (FAST), which has been gaining a lot of attention lately. While some skeptics doubt that FAST can truly replace cable TV, the domestic revenues in the US are projected to hit $12 billion over the next three years. This trend represents a transition back to the linear distribution of video content, but with added flexibility and ease of scheduling, as well as monetization through targeted advertising.
It's important to note that while FAST is becoming increasingly popular, it will only succeed if it can work in tandem with the other business models in the OTT ecosystem, such as subscription video on demand (SVOD), transactional video on demand (TVOD), and advertising-based video on demand (AVOD).
AI Takes the Spotlight at NAB: What It Means for the Industry
But the major topic of conversation at NAB was artificial intelligence (AI) for sure. AI is rapidly gaining relevance in every sector, including content creation.
However, using AI for content creation poses some risks, and it is essential to implement safeguards to ensure fairness and safety.
Nevertheless, broadcasters are already adopting the prototypes of AI-driven tools for bandwidth optimization, image quality optimization, and text-based editing tools that analyze and transcribe content of any length.
From Views to Predictions: The Role of Analytics in Optimizing OTT Strategies
Another important area of focus at the NAB Show was analytics. With so much data available through OTT platforms, content providers and advertisers must be able to analyze and understand user behavior to optimize their strategies. This includes tracking engagement metrics like views, clicks, and shares, as well as using machine learning algorithms to identify patterns and make predictions about future user behavior.
The risky business of traditional pay TV: why sports fans are turning to OTT
Last but not least, streaming consolidation was the buzzword among big rights holders and owners, while niche sports can look at OTT and its potential to generate new revenue.
Despite the promise of FAST and virtual channels delivering seamless playlists of live and on-demand assets to sports fans, it is still down to content to attract viewers to the platforms where that content lives. Premium sports content is one of the few genres still preventing viewers from cutting the cord for good, but eventually, the sports consumer's experience will move online and away from traditional pay TV, which is perceived as a risky and expensive endeavor to undertake.
Bringing the Latest in Video Technology to Our Clients
Our team's attendance at NAB Show was a valuable opportunity to gain insights into the latest trends and advancements in our industry.
As specialists in OTT platforms, we were excited to see the growth and consolidation of streaming services, as well as the emergence of new technologies like AI and FAST.
We're confident that our expertise and knowledge in these areas will continue to set us apart in the industry, and we're looking forward to bringing our clients the latest and greatest in video technology.