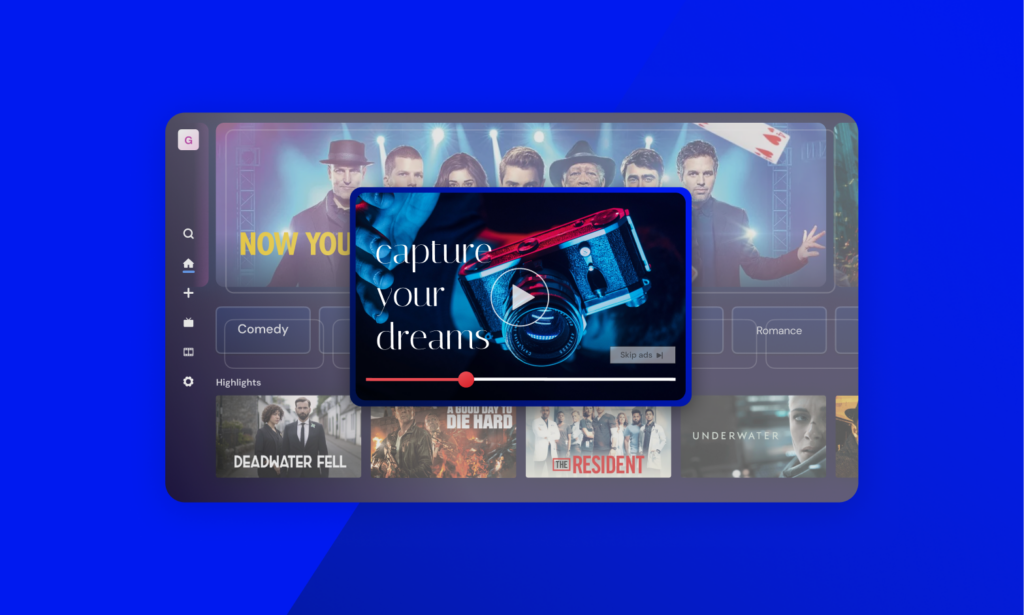 Before we dive into the OTT advertising industry and start talking about all the different options to promote your media content on an OTT platform, let's take a look at why that might be a great idea.
Cable television is slowly going to history with the rise of new technology for streaming media content – the OTT platforms.
OTT platforms, or OTT apps, (e.g. Netflix) are media streaming apps that deliver video and audio content using the internet rather than cable or satellite TV.
And they are winning on more than one front in the battle for audiences with traditional TV.
What is OTT Advertising?
Similarly to regular TV advertising, OTT advertising is distributed via streaming media but this time on OTT platforms instead of TV channels. OTT ads are the advertisements delivered to viewers within this video content.
The good thing about OTT platforms is that they can stream your video content (including your OTT ads) on all of these devices:
Smart TV (through in-TV apps like Netflix, HBO or Disney+);

Streaming boxes (Apple TV, Android TV, Samsung Allshare Cast);

HDMI sticks (Chromecast, Roku, Amazon Fire TV Stick);

Game consoles;

DVR set-top boxes;
And allow you to reach your audience wherever they are.
Even in the audio world of OTT advertising, we have audio OTT ads.
Let's take Spotify for example. Here the ott (audio) ads are delivered on the free version of the platform in-between songs, in the middle of a podcast episode, or whatever your audience is listening to.
Of course, they can always choose to subscribe to premium and pay to continue using their platform without the interruption of ads.
In other words – ads equal money because they bring new business opportunities from interested people that might have never heard of your brand before.
The technology is expected to vastly improve in the upcoming years and offer tech-savvy marketers a field of abundance to reach their ideal audience in the right way at the right time.
This is thanks to the benefits of programmatic marketing (which results in hyper-targeted, super-effective ads), as well as the growing reach of people who transition from traditional TV to streaming services.
OTT ad revenue is expected to grow from 45% to 60% over the next ten years, so AdTech developers and early adopters will soon benefit from it.
The streaming provider determines the delivery methods and how the platform interacts with OTT devices (whether Amazon Fire TV, Roku, Apple TV, or another service). This may include using Video Ad Serving Templates (VAST), whose popular videos are often OTT.
Ads inserted by server-side (SSSA) and client-side (CSAI) could also be done. This whole sequence looks like this:
1. First, you create your target OTT audience for the specific ad based on the subscription data the platform has on its users. Some OTT platforms contain additional data about the subscriber, like household information or the users' preferred genre or specific searches for content watched on the platform, to name a few.
2. Next, you develop your creative asset. The creative asset should be visually appealing – following your brand guidelines, should grab their attention with the message you want to convey, and they should be tailored to the target audience.*You choose the format of your ads based on your audience, but most ads on OTT are often between 15 to 30 seconds long.
3. Then, you launch the campaign. The platform starts to search the audience for your requirements and will match the audience to the specific TV subscriber lists on various OTT platforms. The ads are pushed, downloaded, and buffered by the OTT devices.
4. Finally, ads are displayed on OTT platforms, where, depending on the platform, the OTT devices of your viewers are reached using VAST or VPAID tags.
5. Reporting for analysis: After a specific time from the campaign's launch, the OTT operator sends back ad-exposure results, and the platform gives you a report on the performance of your ads.
Linear vs. Non-Linear Ads
Maintaining a user's satisfaction is essential for advertisers who use video ads to try to be less intrusive and more considerate of their viewers' experience.
Pushing the boundaries might annoy some users and hurt monetization, while the right combination of video and content can result in a wonderful experience.
It is always a good idea to start by experimenting with various ad formats to make sure the environment is as optimized as possible from all aspects: monetization, usability, and precise targeting.
The two primary forms of in-stream video advertising are linear and non-linear video ads.
Linear Video Ads
In linear video ads, ads take over an ongoing video before the main content is displayed. The ads comprise pre-roll, interactive takeovers, or bumper vignettes.
Non-linear Video Ads
Non-linear ads run alongside the main content in the same player. They appear while the main content is displayed without potentially disrupting its flow.
OTT Ad-Insertion Methods
There are two main methods for ad insertion in OTT advertising: CSAI and SSAI.
CSAI (Client-Side Ad Insertion)
CSAI works by sending requests from the video player to an ad server, which returns the ad. SSAI, on the other hand, works by inserting (or stitching) ad media directly into the video stream, eliminating the need to call a server to receive ads.
Here's a more detailed explanation: CSAI (Client-Side Ad Insertion) is a method of delivering ads to clients via different devices (desktop, mobile, CTVs, gaming consoles, and so on) in which the client (the video player of the OTT app where the person is watching the video) requests an ad from the ad server when it reaches specific ad-markers in the stream or in the manifest (HLS/DASH).
When the ad server receives a request from a client, it responds with the "right" ad for the client based on the data collected from the client including other information (campaigns, preferences, etc.).
The video player then pauses the video, shows your ad (or group of advertisements), and then resumes video playback. After the campaign, the client has a responsibility to send you the report (we mentioned earlier) on ad metrics: playback, quartiles, interactives, etc so you can analyze your ad performance.
Although this method is susceptible to ad blockers, currently CSAI is the leading method in the OTT advertising industry with different devices.
SSAI and Stitching
In server-side ad-insertion (SSAI) content delivery, the ads are served as a seamless stream. The process creates, in real-time, a mix of ads and core content streamed to the client device frame-by-frame. Because ad blockers have no possibility to discriminate which frames are ads and which are not, SSAI is a very effective remedy for ad-blocking software.
SSAI allows a seamless video experience even for live feeds. It "stitches" the content together with ads, thus eliminating the bothersome pauses between the actual video and ads. If clickable ads or viewability measurements are needed (via the support of VPAID tags), those capabilities can be added after on the client side; however, this requires some additional development on the OTT producer's end.
While most producers don't consider those capabilities important, particular OTT platforms work hard and try to give their clients more measurement and interactivity with built-in support for VPAID tags.
Stitching, made possible by VPAID tags, is a step forward from a viewer's perspective, but it also imposes some limitations on the advertiser. Most popular ad technologies are still built upon client-side methodologies today.
Tags Used for Communicating With OTT Devices
A VAST tag is similar to a third-party ad tag generated by an ad server, but it is only for video ads. VAST is an abbreviation for Video Ad Serving Template. It allows video players to communicate with ad servers, allowing advertisers to serve ads across multiple ad inventories within video ad streaming services.
VAST tags provide instructions for the video player about how to present your video ad—how it should pop up in the player, how long it should last, if the user can skip it or not, etc.
VPAID Tags
VPAID is a rich media creative that is delivered within a VAST tag as an additional media asset type. A publisher's in-stream video player frequently uses VPAID for interactive OTT advertising. The video player can be muted or paused while VPAID creatives display the ad content you prepared which might include other interactive elements.
Video Player-Ad Interface Definition (VPAID) tags are an upgrade of VAST tags, not only because they allow the user to interact with the ad but they also add viewability measurement. However, VPAID tags don't support stitching.
VPAID tags are relied upon to measure the viewability and verification mentioned above, and in some cases, offer interactivity, which has led some agencies and advertisers to prefer VPAID tags over VAST tags.
Last thoughts
In this article, we've only scratched the surface of OTT ads, and our team would gladly answer any further questions you may have about OTT platforms and the benefits of OTT advertising through multiple devices.
Streaming TV advertising on OTT platforms is a great way to reach the new wave of audiences migrating away from traditional TV in a more cost-effective manner. Let us help you with that!
If there's something you'd like to clarify further, or if there are any challenges you're facing in your current content streaming project, we're here to help! Contact us on the button below.
Reach the new wave of audience migrating away from traditional TV with OTT ads!