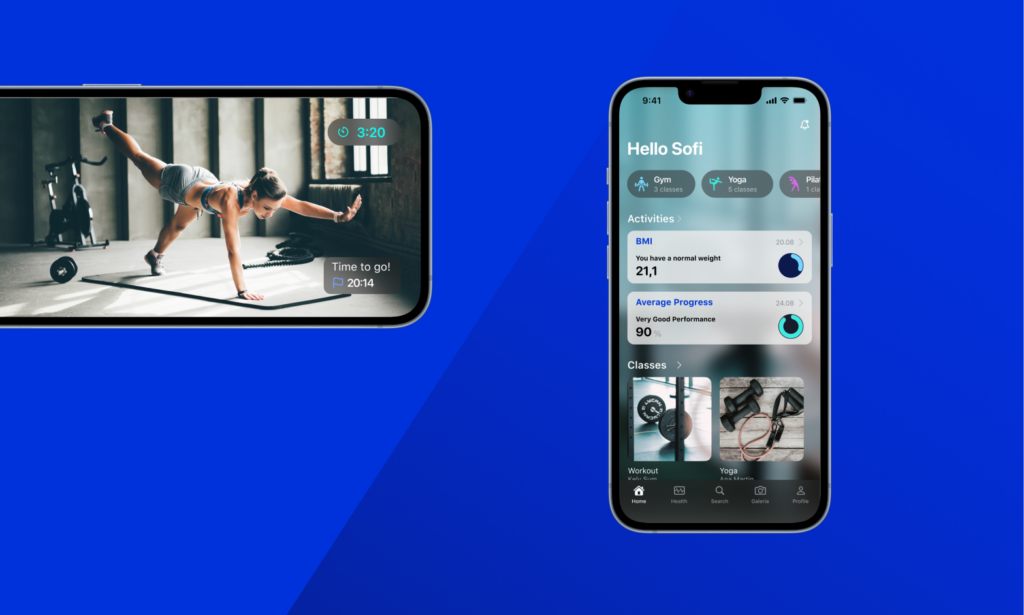 Create your company's APP with our guide
We live in an era of technology, where the smartphone is the star product.
Smartphones have become an essential part of our daily routine because they are so practical and user-friendly – small, all-knowing, and always within your reach.
In 2022, the number of smartphone users in the world today is 6.648 Billion, which means 83.72% of the world's population owns a smartphone.
With the growing usage of smartphones for consumer purchases, any business might benefit from an app to help increase sales, market their products directly to their customers and strengthen its brand reputation. Besides, using an app could become a standard procedure of the customer journey and a requirement for closing a sale in the near future.
Given that people of all ages use various mobile applications daily, there has been a large increase in companies creating their own, custom-built apps and going one step further in connecting with their customers.

The latest report from Statista shows us that during the first 3 months of 2022, Android users were able to choose between 3.3 million apps, making Google Play the app store with the biggest number of available apps.
The Apple App Store is the second-largest app store with roughly 2.11 million available apps for iOS users. While the actual number of apps may fluctuate as Apple and Google regularly delete low-quality content from their app stores, the number of apps overall has consistently increased over time.
Moral of the stats? – No matter what industry you're in, if you want to accelerate your business growth you might consider doing the same.
Thinking of creating your brand new APP for your business? Congratulations! You just made a great decision.
However, app development can be time-consuming, labor-intensive, and requires proper planning and alignment with your business strategy. This path may seem complex and, normally, you have doubts, therefore we provide you with this guide so that you can establish an app development roadmap.
Step 1: Define your idea
To carry out your project successfully, first, you need to define a mobile app idea that should be able to solve a problem. What do you want it to do? Is it an online store? Is it a customer service channel? The mobile version of a cloud service?…
The answer to this question will determine what type of technology and professionals are needed, as well as your budget and the time required to develop it.
Here's a short list of the best app ideas that we could find on Google, to give you an idea:
Live Video Streaming App.
Airbnb for Cars App.
Scan and Shop App.
Smart Parking Mobile App.
Peer-to-Peer Self-Storage App.
Cash Advance and Money Lending App.
Book a Handyman App.

and the list goes on here – best app ideas.
Even if you already have a great idea for an app and can't wait to see it up and running, the path from concept to implementation isn't always straightforward.
And if you don't know where to start, take a look at some of the most commonly used practices to come up with an app idea and align it with your unique business goals.
A) Combine different features from your favorite apps and mix them together!
Think of the few apps that you use regularly. Is there a way that you could take the most useful elements and mold them together to form a new type of app? Most app ideas are variations and combinations of already existing ones.
B) Improve an existing app
This is another part where you can use the findings from your competitors and market research. Have you already used an app and thought to yourself, "It would be so much better if this could do X, Y, Z"? There is your business opportunity!
If the app's original author isn't continually upgrading and improving it, you have the option to make it better. Check the reviews and ratings for the original app that will serve as your inspiration.

Is there a great number of people complaining about the same thing? Are they expressing dissatisfaction with something else? Is the app's creator paying attention to the feedback? As you'll see, the single most important factor in an app's success is listening to user feedback and developing it based on that feedback.
Step 2: Strategic planning and research – Understand your target audience
We frequently approach the strategic planning process with preconceived notions. When confronted with a problem, we often believe we already know the solution. However, we might not always be right.
The number 1 reason why so many apps fail is due to poorly researched market & audience.
It's easy to assume that your app will be well-liked by consumers, but can you prove it?
It's critical to have a thorough understanding of your product's target audience long before development begins. Audience research is important not just for producing an app that meets a specific user need, but also for creating marketing strategies that will later attract users. User research is at the heart of a successful app launch plan, including market and competitor research.
How else would you know what to build for your users, though? How will you address their concerns and go above and beyond what the competition has to offer?
Uncovering consumer insights through research will assist you to improve the buyer's journey and make it as smooth as possible – converting them into satisfied customers. For example, if your mobile app is aimed to serve older people, additional usability adjustments may be necessary, such as increasing the font size or simplifying the design.
You should be able to confirm assumptions about user behavior and the product itself before releasing it to the market. An iterative process is highly beneficial for consistently satisfying user needs and keeping them engaged with your product.
Being clear about your audience preferences will guide your decisions in approaching the app development, the design, colors, and even the way of promoting it.

Step 3: What's the purpose of your app
Every successful app has a clearly defined purpose. Developing an app with no clear purpose or scalability is probably going to be a waste of time, effort, and money.
You should be able to define your app's purpose in two sentences or less. If you can't summarize it, it means it's confusing and probably not targeted enough to find its own market.

The most successful apps fall (at least) into one of the following categories of purpose and are therefore worth developing and expecting a return on investment.
A.) Solution/Problem solving
Make it easy for clients to interact with you, purchase from you, book with you, and do business with you in general.
A food delivery service, for example, will benefit from an app that not only lists restaurants based on the type of food they offer but also how near they are to the current location of the user and be able to calculate the delivery time accordingly.
Video-streaming app, on the other hand, might take your fitness business to a new level by enabling your clients to watch and perform your exercises online from the comfort of their homes!
Another example might be to create a new customer service channel that your users can turn to at any time. In this case, you won't be interested in monetizing the application because what you want is to improve your customers' satisfaction and retention. So that in the long run, you keep your satisfied customers subscribing and fight your churn rate.

Or you may want to launch a new business model that solves a recurring problem and makes the day-to-day life of your users easier. In that case, you can make the APP profitable.
B.) Entertainment
Entertainment apps comprise a variety of interactive activities, from purely leisure apps (listening to music or playing games) to communication apps (social media, streaming media, and instant messaging).
If you're in the entertainment industry your business can benefit from an app such as Netflix (for streaming videos), Spotify (for your audio content, podcasts, or audiobooks), Candy Crush (video gaming), or even sports!
Recently FIFA announced the launch of their own streaming app – Fifa+! Which is kind of a big deal for all the football fans around the globe as now they'll be able to watch their favorite match live from the palm of their hand.
C.) Added Value
Then some apps give you a helping hand in your workflow and are part of your daily life, e.g. Slack, Zoom, Dropbox, Google Drive – where would we be without these?

Whether it will make you profit directly or indirectly is another question. But as a rule of thumb – if your app doesn't have a clear purpose, it's not going to be valued, used, or have a chance to generate a return on your investment.
Step 4: Monetization strategy
According to Business of Apps, free apps account for 90% of all apps in the App Store and 95% of all apps in the Google Play Store.
If you want to earn money with your APP, you need a business plan. The most common monetization strategies are the payment per download of the app, offering purchases within (such as subscription plans), or including advertising in a free application (think Duolingo).
If you choose to offer purchases within the App, this implies changes in the conception of the application and in the design itself. Why? Because you have to implement some way to process payments, which carries an additional cost to meet all the security requirements.
Finding the appropriate monetization options for your mobile app can be a difficult task, but it's also a crucial step on the road to profitability.
Here are some of the available options for app monetization:
A.) In-app purchases
Making in-app purchases available to your consumers is a wonderful method to monetize your apps. Your app is free to download and use, but inside there are products that can be bought.
This app monetization model is widely embraced by e-commerce brands, such as fashion & apparel companies. They have their own, branded apps where you can access and see their latest collections and new arrivals without having to go to the brick and mortar store. The app is free to download and you can use it to check on their products. But, there's always an option to buy a product online with an in-app purchase.
The actual purchasing process is enhanced with different marketing strategies. Such as receiving a notification straight from the app on your phone that your favorite clothing brand has a special discount (only for those that use the app).
Duolingo, for example, is one of the most popular language-learning apps in the world with 23 languages available and several more in the works. Duolingo has several in-app purchases that can be fun and very helpful. What makes the app so addictive is the streak – the number of days in a row you have completed a lesson. Every day you're notified that you gotta practice if you want to keep the streak going. For people who have come to 600 days streak, losing it can be stressful.
If users lose their streak due to an entire day of inactivity, their only option is to pay a fee to regain their streak. See where the in-app purchases come now? The cost to repair a streak starts at about $2.99 and increases to as much as $19.99.
B.) Subscription services
Even when your app is free to download, you can still monetize it by offering a subscription service to your users. This lets you offer a different experience to paying users VS those using your freemium service. This type of app monetization is favored by B2B companies.
Depending on your app's offering, you can set up multiple subscription packages with different levels of value. For example, you can offer a free service, a basic subscription, an upgraded version, or a premium service for different types of users and for a different price.
For app authors, subscription models foster a sense of loyalty. When clients agree to pay a monthly subscription fee to use their app, their lifetime value increases (LTV). This business model also has advantages such as Apple Store favorability, improved revenue, and increased audience engagement.
The types of apps that succeed in the subscription model are usually content apps, whether it be news articles, music, or video. e.g. Netflix, Spotify; or service apps, e.g. productivity apps like Todoist, Evernote, LastPass, etc.
C.) Ads in a free app
In-app advertising is the most prevalent approach to monetizing your mobile apps. For apps that want to stay free in the app store, this strategy provides a useful source of cash. However, if you plan to put ads in your mobile app, you'll need to familiarize yourself with industry jargon and how to handle advertising monetization.
Cost per Thousand Impressions (CPM), Cost per Click (CPC), and Cost per Action (CPA) are the three types of ad revenue. Before launching in-app ads, you should also think about ways to avoid potential issues. Ads that don't match your brand, for example, can harm your reputation. Slow, inefficient ads can damage the user experience, frustrate users, and fail to provide advertisers with reasonable conversion rates. However, while 78 percent of consumers will gladly accept mobile advertising that is relevant to their interests, these issues can be avoided by providing the correct formats and collaborating with relevant advertisers.

There are top 5 app ad formats you can choose from banner ads, native ads, interstitial ads, video ads, and playable ads.
Step 5: Study the UX design
You're now ready to consider how to design an app that is both intuitive and simple to use. What will the user see when they open your app and how will they interact with it to use its features?
At 2Coders, we usually start with a pencil and notebook because everything is in flux and there's a lot of rough sketching as we develop your ideas.
It is recommended to prepare an initial sketch of your app so that the designers better understand your proposal. They will be in charge of presenting a final prototype in which the real needs of the mobile application are validated, as well as the usability and information architecture.
In this step, we try to include as much detail as possible to clear doubts such as:

– Will users have to log in to use it?
– Does the information on the APP need to be integrated with a website?
– Can you separate the functionality of your app into distinct sections or screens? – – – – Where will we place the navigation?
among others.
Step 6: UI design and development
The final visual design phase and its development is the most exciting one, because you will see how your idea takes shape. Although it can also be stressful, especially if you do not have experience in the IT environment.
To ensure that deadlines are met, that communication is fluid and that the entire team is coordinated, the figure of the Project Manager is essential. At 2Coders we will provide you with this figure so that you can receive advice throughout the entire process. So you can supervise and participate in the creation of the APP, you will receive partial deliveries to incorporate your feedback until your application is ready to be launched publicly on the APP Store or Google Play Store platforms. We look forward to talking about your project!