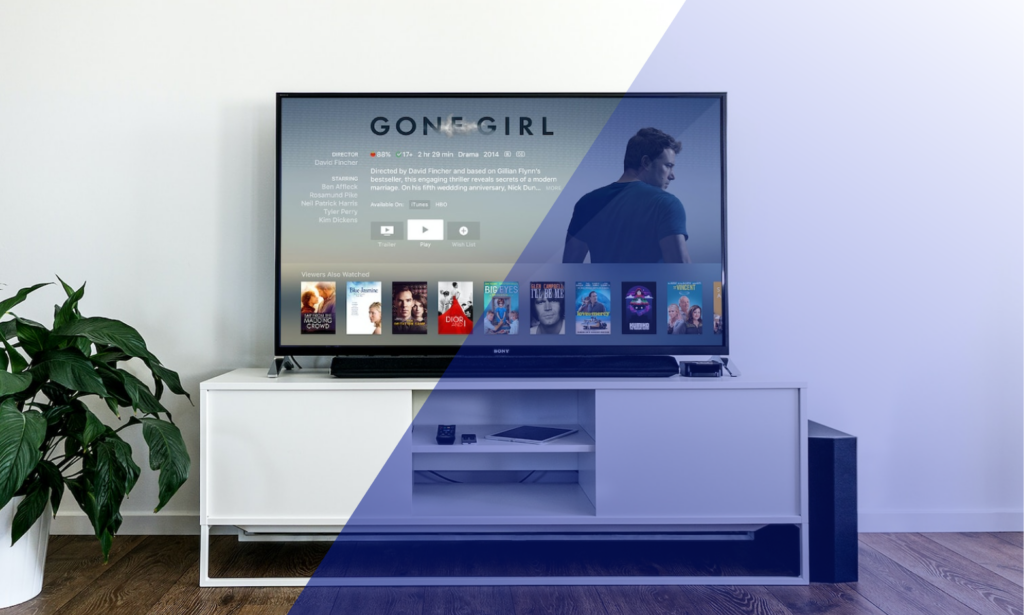 The OTT industry is blooming. With its worth of $121.61 billion in 2019, the OTT market is expected to grow to $1.039 trillion by 2027. (source Uscreen)
Before we jump into the OTT Video streaming trends for 2022 and beyond, let's define what we mean when we say OTT and why is OTT relevant today?
What does OTT mean?
Over-The-Top (OTT) is the process of streaming media content to viewers and customers directly over the internet (on the web), without paying for cable TV.
It's the modern way to access media content like movies, TV shows, series, sports, music, etc, across different devices, whenever we want! Streaming the content "over-the-top" (across different devices) is the new delivery method for providing film and TV content over the internet without the need for traditional broadcast, cable, or satellite pay-TV providers. And people love it!
Viewers can access their favorite programs and movies through an app or a website straight from their fave tech gadgets: smartphones, tablets, laptops, smart TVs, gaming consoles, computers, and such, whenever they're connected to the internet and paying for access to an OTT platform.
The most popular mobile operating system across all markets is Android with 72.2% market share, followed by iOS with 26.66% (GlobalStats StatCounter). Globally, there are 3.8 million smartphones, as 48.3% of the world's population owns one. (Bank my Cell)
This means they have the freedom to choose when and what type of content they want to consume. Which beats traditional TV more and more with each passing day.
Typically, OTT streaming services limit access to paying viewers. They provide premium content and a superior experience for which viewers can pay to access on a pay-per-view basis, or they can subscribe for unlimited on-demand access to the platform for a monthly or annual subscription.
What is an OTT platform? & Examples
Take Netflix for example. Netflix is an example of an OTT platform for streaming service that offers a wide variety of award-winning TV shows, movies, anime, documentaries, and more.
And the best part is, you can watch Netflix movies & TV shows online OR stream them right on your smart TV, game console, PC, Mac, mobile, tablet, and more. Whenever you want to watch, as long as you have access to Netflix and the internet.
Netflix is the biggest OTT service in the US in terms of revenue, with 30.8% of all subscription revenues heading their way. (eMarketer) By March 2020, 61% of Americans either paid for or shared a password for a Netflix account.
How many OTT platforms are there?
Other OTT platform examples are Disney+, Hulu, Amazon Prime Video, Peacock, CuriosityStream, Hotstar, Discovery+, Pluto TV, and so many more! as new OTT platforms are being created while you're reading this. The list of streaming media services is expanding.
Fun fact: The Mandalorian was the most-watched Disney+ series of 2020, with 14.5 million streaming minutes over the year! (Nielsen)
Here are the Top 8 Over-The-Top Trends to Watch for in 2022
#1. OTT industry will continue to expand
As we mentioned earlier, The Over the Top (OTT) Market was valued at USD 101.42 Billion in 2020, and it is expected to reach USD 223.07 Billion by 2026, registering a CAGR of 13.87%, during the period of 2021 – 2026.
Part of this rapid growth is influenced by the COVID-19 pandemic which positively impacted the OTT market landscape, as more people switched to consuming content via OTT devices at home. This trend is here to stay as this format is expected to continue to grow, as we can see from the rising OTT subscription rate.
The number of consumers is increasing as more and more people now have a digital TV in their pocket and use over-the-top media service as their go-to source of entertainment, knowledge, and content library. This presents an alluring opportunity for media buyers looking to invest in OTT streaming and take advantage of the changing consumer trends. Streaming services will dominate the market with the OTT industry as a leader.
#2. Immersive OTT live streaming possibilities
Live broadcasting of sports, award ceremonies, and other events on OTT platforms is a huge step forward in the transition from traditional TV.
Bootshaus Live, for example, is a video streaming platform launched by Bootshaus, one of the most popular electronic music nightclubs in Germany. They were looking for a way to connect with their audience and continue to generate income when COVID-19 restrictions forced us all home, and them to close indefinitely.
But they found their solution in the OTT industry. They created a subscription streaming service – video-on-demand (SVOD), where their most loyal audience can enjoy live streams of DJ sessions and get access to on-demand videos of exclusive DJ sets.
So, it won't be surprising if more OTT media houses and publishers experiment with this content format.
What's particularly interesting is how live broadcasting on OTT will match the cable TV experience. Virtual reality (VR) technology will make the viewing experience more immersive and entertaining.
#3. 5G – A Key Driving Force behind OTT Adoption
5G is the 5th generation mobile network that aims to provide even better wireless internet with a fast and reliable connection and thus connect people with technology even further. 5G will become more popular as the year progresses.
Using 5G will make it possible to live stream high-resolution videos with minimal latency (delay on a network or Internet connection). 360-degree live streaming will be more readily accessible, too!
#4. Shared viewing experience
Shared viewing was popularized when many of us started sharing the same account (e.g. on Netflix or HBO) to watch content. The five biggest U.S. subscription streaming video services saw increases in engagement in early May. (source Comscore).
Now, they used this perk to transform it into a common option in streaming services so people can use one out of many accounts within one subscription package plus can also watch content simultaneously from different places when the subscriptions are shared among groups or inside the family.
The sharp media businesses saw this flexibility as an opportunity for marketing emotions of getting together and enjoying popcorn and movies with the people closest to us. "Netflix and chill" – rings a bell?
In the next year, it'll become more standardized so people can easily connect and spend time together despite the distance separating them.
#5. OTT video advertising opportunities
Of course, with each new creation of a digital channel that attracts the masses, same with the OTT streaming platforms come new advertising opportunities! Currently, OTT is the digital "gold-rush" and the modern land of plenty!
And here are the predictions for average revenue per user using OTT video streaming services acquired through advertising, straight from Statista. According to statistics, almost 52% of all the revenue made in the OTT market comes from advertising video-on-demand (AVOD). It is safe to say that OTT video advertising is one of the biggest sources of income for many businesses and their partners that use this channel to deliver content in this rapidly growing industry.
Going further into 2022, advertisers will strive to reach as many users as possible and will be looking for new opportunities to broadcast their exclusive content on streaming platforms.
#6. The Future of Fitness is Online
Again, the reasons are obvious. During the global lockdown, people were stripped from one of their greatest pleasures – hitting their local gym, fitness center, or yoga studio to perform their daily exercising routines. While the restrictions were understandable and we all complied with them, still we didn't give up our need to stay physically active even if that meant practicing at home.
Satisfying this need found its solution in the OTT streaming services once again! as many fitness trainers and companies started offering their services online – via video streaming content.
The fitness industry has been trending online for a while now; in 2019 alone in the US, the digital fitness industry climbed to $3.6 billion in revenue!
One example is TINT Yoga – an OTT platform for yoga educators, practitioners, and trainees. Based in Frankfurt, Kim – the founder, wanted to expand his business in the digital realm beyond the walls of his brick-and-mortar yoga studio so he created a bilingual subscription-style video streaming platform that offers yoga-related content in English and German.
Another example is Naturally Sassy, a health and fitness OTT platform specializing in ballet workouts and offering content online via video-on-demand.
#7. Localization of content
With media businesses of different types turning direct-to-consumer, content has become scattered around, forcing customers to pay for multiple services to watch what they want.
In 2022, localization will remain essential for global streamers' ability to compete with local players and minimize their churn rate. Because global content is in high demand, OTT localization brings additional opportunities for growth and reaching a better target audience.
With content localization, you'll be able to meet your audience's expectations and fit into the local markets. But if you're aiming to attract customers from global markets, ensure your localization strategy takes care of language, cultural, political, and socioeconomic issues, among other important factors. This will drastically increase your chances of success.
Amazon and Netflix already switched from acquisitions to offering original productions. Amazon's Prime Video and Netflix have experience working with localization strategies for years now and therefore have managed to retain the top two spots of household endorsement in Europe. Disney, on the other hand, in an effort to maintain its growth rate is targeting more than 60 European originals by 2024.
The OTT video streaming market is overflowing with a variety of choices for viewers. However, this abundance has turned out to be a slight problem due to the many different subscriptions a viewer has to deal with. As content is scattered across various OTT services, viewers' loyalty will incline towards their favorite content rather than specific platforms.
So to keep them coming and hooked, businesses will need to offer premium content along with the right business model. Additionally, we have already started witnessing a rise in collaboration among brands & companies aiming to benefit from each other's content libraries, similar to the merge between SonyLiv-ZEE5. Another strategy content creators use is bundling of OTT subscriptions with other services.
#8. Bundling, partnerships, and further expansion
Since traditional TV stations will strive to make sure they don't become a thing of the past and do what they can in an effort not to completely lose their audience, they will need to be open to new challenges and collab. opportunities.
The Clash of the Titans: Cable providers VS. OTT streaming services
With this in mind, in 2022 the OTT industry is expected to produce an increased number of partnerships between streaming services and cable providers.
They will come up with new marketing strategies and subscription bundles that will become available to attract and retain their audience. This will include deploying a mix of different techniques such as reaching out via social media channels or over-the-top video ads.
Multichannel's model of packages with à la carte TV networks on the side was a common thing in the past and has been repurposed for the streaming era today.
Stream or broadcast content on different devices. We help make it possible!